Pull-out Basin Faucet Leakage and Solution
Posted on November 22 2022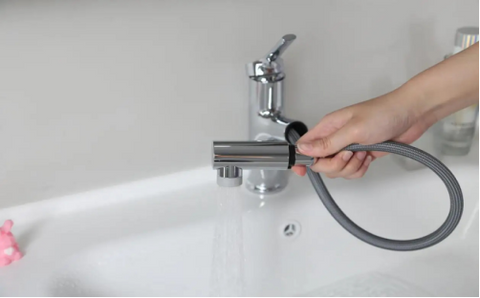 1、There is no water outlet leakage: when the faucet in the shaft gasket wear will appear in this situation. Solution: According to the size of the faucet, choose the corresponding pliers to unscrew the faucet gland, and remove the worn shaft gasket with the clamp, and then replace the new supplemented gasket to solve the problem.

2、The joint of the pull faucet is leaking: check whether the nut is loose at the joint. Solution: Tighten the nut or replace it with a new U-shaped gasket.

3、The reason for water leakage in the lower gap of the faucet bolt: it is caused by the wear of the triangle sealing pad in the gland. You can loosen the screw and remove the bolt head, then loosen the gland and remove the inner triangle seal of the gland and replace it with a new one.
What are the advantages of pull-out faucets
The fixed faucet water and hand spray mode can be switched arbitrarily. When we need to wash our hair, or clean the sink, we can pull the faucet out and switch it to hand spray mode, allowing us to rinse off foam on our heads and dead spots in the sink. General pull type faucet hose can be freely pulled to 60cm by using the principle of gravity ball, which can meet the length of our different water needs. And some pull type faucets also add bubbler Settings, not only to ensure the water of the skin delicate feeling, will not cause the trouble of splashing everywhere. So it's easy to use and it saves water, up to about 30%.
YOROOW Sanitary Ware has been deeply engaged in the field of faucets for more than 12 years, and has its own R&D team and production factory, which can provide customers with OEM&ODM services. As one of the most professional faucet manufacturers in China, yoroow always insists on serving all customers with the most professional knowledge and attitude, and has also received a lot of praise from customers. If you have any needs for the faucet, please Contact Us, we will give you a reply within 24 hours and do our best to help you solve the problem.