Sri Lanka Plans to Ease Import Restrictions on Sanitary Ware
Posted on November 08 2022
On November 1, the Sri Lanka Committee of Public Finance (COPF) discussed the rationality of the import ban on sanitary ware at its meeting that day.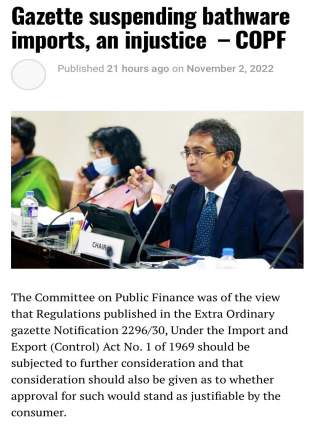 The Public Finance Commission of Sri Lanka believes that the regulations published in the Special Gazette Notice No. 2296/30 under the Import and Export (Control) Act No. 1 of 1969 should be further considered. The Commission further said that consideration should also be given to whether consumers believe approval of such regulations is reasonable.
The publication of the communique is related to the suspension of the import of sanitary ceramics such as squat toilets and washbasins. In addition, committee members also considered the formation of a monopoly on local tiles due to the import ban.
The Commission also took into account the fact that, in an environment of import suspension, the sharp rise in the price of bathroom accessories and tiles and the inability to meet the growing demand has caused a great injustice to consumers. In 2021, the price of the Sri Lankan bathroom market will soar by 300%. A toilet set that originally cost 15,000 rupees will need to pay 50,000 rupees. Therefore, the committee recommends that the Ministry of Finance submit a report in this regard.
Prior to this, Sri Lanka released a communiqué on September 9 to relax import restrictions on more than 150 commodities signed by the country's president. These include the relaxation of imports of 6910 sanitary ceramics. The content shows that, according to the suggestion of the secretary of the country's Ministry of Industry, when the added value of domestic manufacturing is less than 20%, some raw materials and capital goods required by factories can be imported.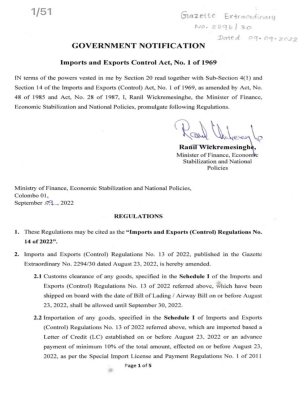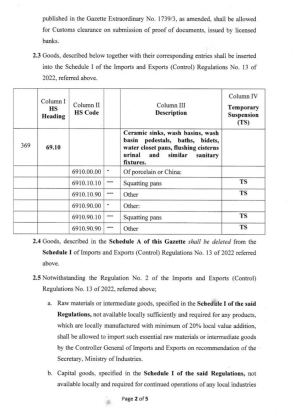 In 2020, Sri Lanka issued a ban on the import of sanitary products. In February 2021, Sri Lanka compromised with importers and allowed to relax import restrictions on some ceramic products to meet 50% of local sanitary ware demand, but importers must increase tariffs from 15% to 30%. Sri Lanka Customs announced the repeal of the Import and Export (Control) Regulations No. 02 promulgated in January 2021, and the deletion of import restrictions 6910 and 6906 in the Import and Export (Control) Regulations No. 04 of 2020 on July 16, 2020 Items: including ceramic sinks, washbasins, flush toilets, flushing tanks, urinals and other sanitary equipment.
In order to alleviate the shortage of foreign exchange in Sri Lanka, Sri Lanka issued a special communiqué on August 23 this year, imposing import restrictions on 1,465 items. After multiple consultations, 708 items have been removed from the list of import restrictions.
(Article source: https://www.chinaweiyu.com/)