The benefits of the pull-out faucet make you want to go home and install it after knowing it!
Posted on October 13 2022
An artifact to solve troubles, I believe many people have had this experience. When washing hands, water will be splashed everywhere, and 20 minutes of housework will take 1 hour to complete. Sometimes in the morning, I want to wash my hair in the bathroom, but I will Tired my neck...
Today, I will recommend an artifact to you to solve this trouble! [YOROOW bathroom pull-out faucet, say goodbye to the wet bathroom, no longer have to worry about splashing water! And it can be rotated 360°, saving more than 50% of water!
What is a pull-out faucet?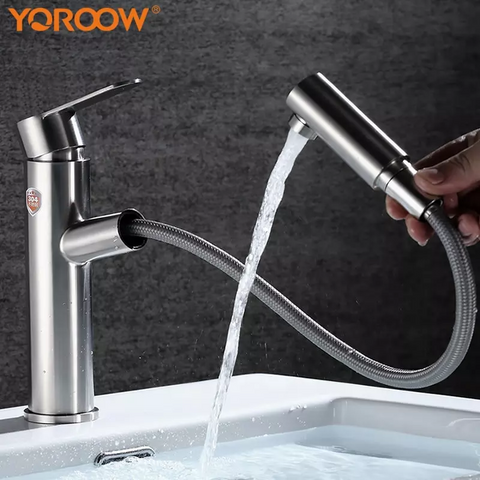 The pull-out faucet is a hose connected to the water outlet at the top, which can be pulled freely to expand the use range of the water flow, and it will be more convenient during use.
At present, the pull-out faucet not only provides hot and cold water switching, but also has two water output modes, one is a foaming mode, and the other is a shower mode, which can be easily switched by pressing a button, and the pull-out hose can reach where users need it. You can also wash your hair, feet, and bath your pets in the bathroom.
Advantages of pull-out faucets:
More convenient
Unlike fixed faucets, pull-out faucets can be rotated up to 360 degrees. Usually, if a relatively large object receives water, such as a basin, a bucket, etc., the pull-out faucet can easily solve this problem, and really wash where you want to wash it.
Easier to clean
The fixed faucet is troublesome to clean, and it is easy to get oil stains and water stains. After repeated cleaning, the faucet will lose its luster, but the pull-out faucet does not have such troubles. With special coating treatment technology, the cleaning agent will not fade, Non-corrosive, not easy to stick to oil.
3. More practical
The pull-out faucet can pull out a 60cm hose from the spout position, suitable for many types of wash basins, and the spout can easily reach where you need to flush or use water. With one touch, you can flexibly change the shower water and faucet water, and easily solve the cleaning problem of the bathroom.
More environmentally friendly
The environmental protection of the faucet is manifested in the lead content in the water, which is mainly caused by the water body scouring the waterway. The low-temperature welding process is used between the copper water inlet pipe under the table and the faucet body to maintain the high strength of the product, and special welding materials are used, which does not contain cadmium and effectively eliminates harmful metals.
More durable
Professionals say that the durability of the faucet mainly depends on the surface treatment process. It was tested in an acidic high temperature environment with a pH value close to 3, and it was intact for more than 4 hours, indicating that the surface treatment process is very good, and the pull-out faucet meets this standard.
YOROOW Sanitary Ware has been deeply engaged in the field of faucets for more than 12 years, and has its own R&D team and production factory, which can provide customers with OEM&ODM services. As one of the most professional faucet manufacturers in China, yoroow always insists on serving all customers with the most professional knowledge and attitude, and has also received a lot of praise from customers. If you have any needs for the faucet, please Contact Us, we will give you a reply within 24 hours and do our best to help you solve the problem.